Hoi An city – a famous tourist destination Quang Nam was honored as one of the 20 most wonderful "nightlife" places on the planet. When night falls, the whole of Hoi An becomes sparkling, fanciful like a beautiful picture. So what's Hoi An tourism at night so attractive and so passionate about people? Let's walk around Hoi An ancient town at night with to find the answer!
Visit Cau pagoda at night
Japanese Covered Bridge is also known as the Japanese Bridge, a tourist symbol of the ancient town of Hoi An, a destination not unfamiliar to any visitors coming to Hoi Street. Covered Bridge is exactly as its name suggests, lying across a small branch of Thu Bon stream embracing the old town. Over 400 years of history, Cau Pagoda is still there, ancient and quiet, witnessing many changes, marking the intersection of unique cultures. All have put on Hoi City a rare beauty like today. The pagoda was built in the early seventeenth century by Japanese merchants, worshiping North Emperor Tran Vo – a protector of the country, with the meaning of protecting peaceful life for people.
When night falls, Cau pagoda becomes more beautiful and sparkling than ever. The temple is illuminated by sparkling lights, constantly changing color, opening up a beautiful multicolored picture before visitors. Walking around at Cau pagoda with bright lights is a definite experience you must try when traveling to Hoi An at night.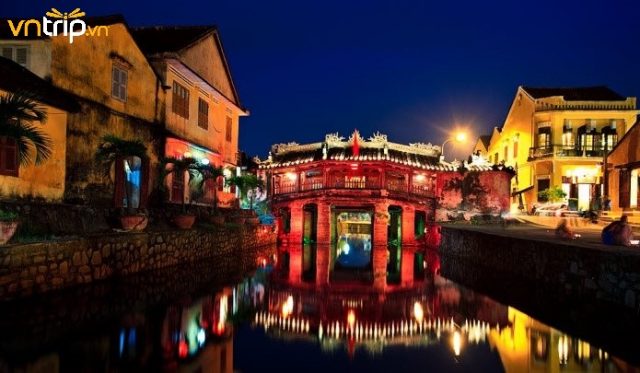 Walking Hoi An ancient town at night
Another experience at night when coming to Hoi An, although simple but extremely attractive and interesting, is walking the old town. The Old Quarter is quiet and quiet with old houses that are roofed with mossy roofs, adorned with shimmering, fanciful colors of lanterns at night. The whole city of Hoi seems to be wearing a new, brilliant shirt that captivates any visitor. Walking on the old streets that seem to be lost in the city of light – where there is a combination of the tranquility of ancient architecture and the excitement of modern life.
The highlight of Hoi An ancient town at night is the area near the bank of Hoai River. Bach Dang street with golden lights from the old rows reflecting into the river forever creates a romantic and poetic scene. Perhaps that is why this place is considered as Vinice of Vietnam.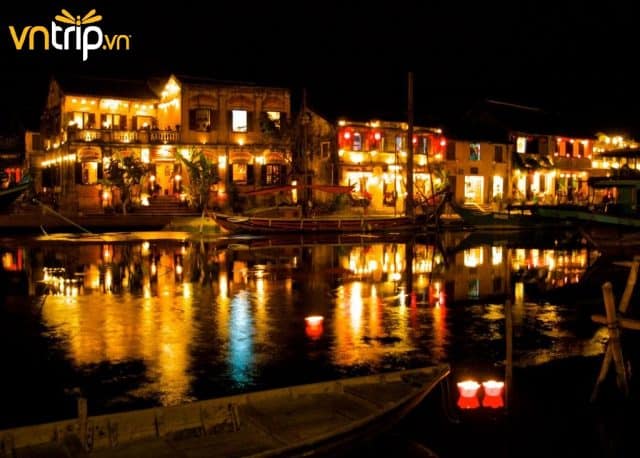 On the side of the bank is Nguyen Phuc Chu street with many popular restaurants and souvenir shops. Here you can easily enjoy the fascinating specialties of Hoi An and find souvenirs to buy as gifts for relatives. This street is also the place to display many beautiful pictures of Hoi An as well as other famous tourist destinations of Vietnam.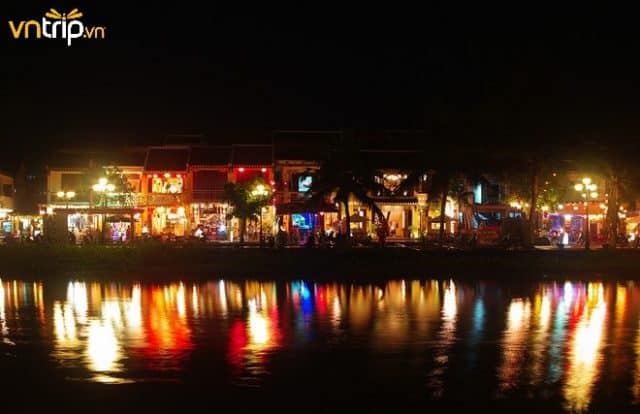 Take a boat on the Hoai River and release the flower lights
Traveling to Hoi An at night not only attracts tourists by Cau Pagoda or the old town, but also the experience of sitting on a boat and releasing flower lights on the Hoai River. You can rent a small boat down the Hoai River, quietly watching Hoi An quiet but magical at night, and listen to stories about this land from the boatman in a peaceful space. Moreover, you can manually release small, sparkling flower lanterns with hopes, dreams, and prayers for health and luck for yourself and your loved ones. Pretty small flower lanterns are sold for 3,000 – 10,000 VND along the streets of Hoi An. It seems that everyone feels excited when they personally decorate the light picture on the romantic Hoai River.