Choosing Ninh Binh as the place for wedding photography is very new and attractive to couples. This is a very beautiful studio to help the bride and groom mingle with nature, mountains, rivers, and heaven. Therefore, in order to have a beautiful and unique wedding photo album, you must immediately follow 10 very hot and romantic wedding photography locations in Ninh Binh.
Trang An
Location: Ninh Xuan Commune, Hoa Lu District, Ninh Binh Province
This is a beautiful place for wedding photography in Ninh Binh that couples cannot ignore. Trang An with majestic limestone blocks, perennial caves and beautiful natural scenery in harmony with the poetic beauty of the country. This will be the ideal place for couples.
Trang An is not only an eco-tourism area listed as a National Monument but also recognized by UNESCO as a dual world heritage site in 2014.
The most attractive scene in Trang An is the clear water scene with colorful fanciful layers of moss, creating a beautiful inspiration for wedding photos.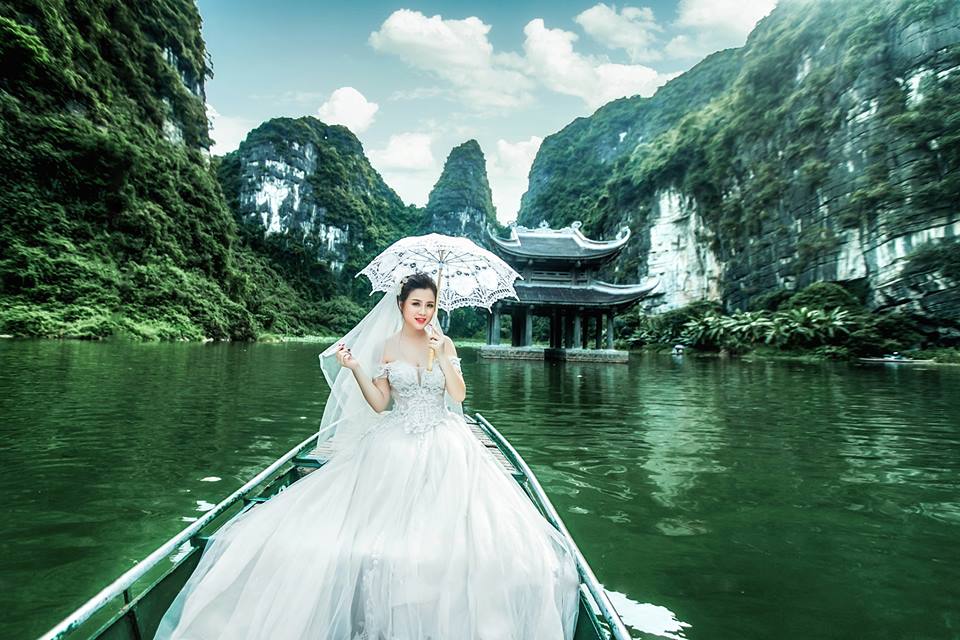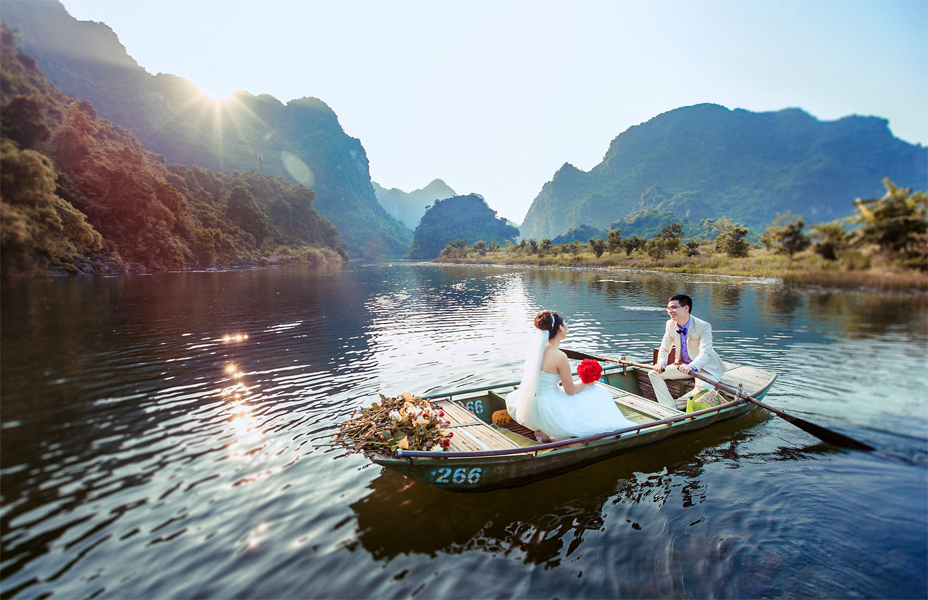 Thung Nham
Address: Hamlet Hai Nham, Ninh Hai Commune, Hoa Lu, Ninh Binh, Ninh Hai, Hoa Lu, Ninh Binh
Thung Nham painting is a combination of both magnificent and delicate beauty in each wedding photo of couples. Coming here, you will be spoiled for cultural tourism, as well as spirituality of indigenous people, with the majestic landscape and beautiful biodiversity. Thung Nham eco-tourism area is one of the new tourist destinations in Ninh Binh and has become one of the most impressive wedding photography spots for couples coming here.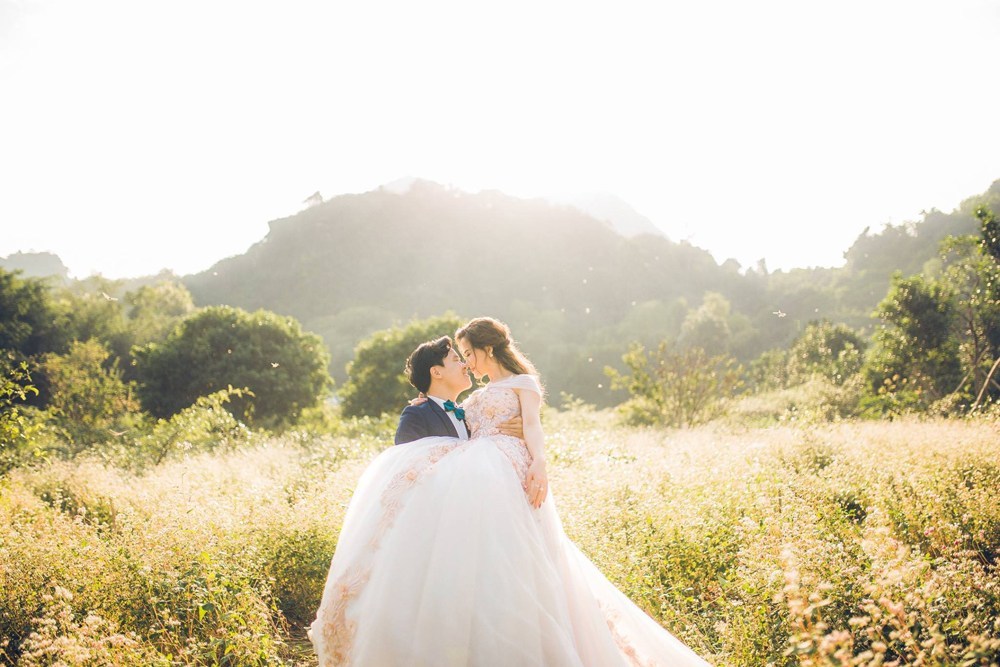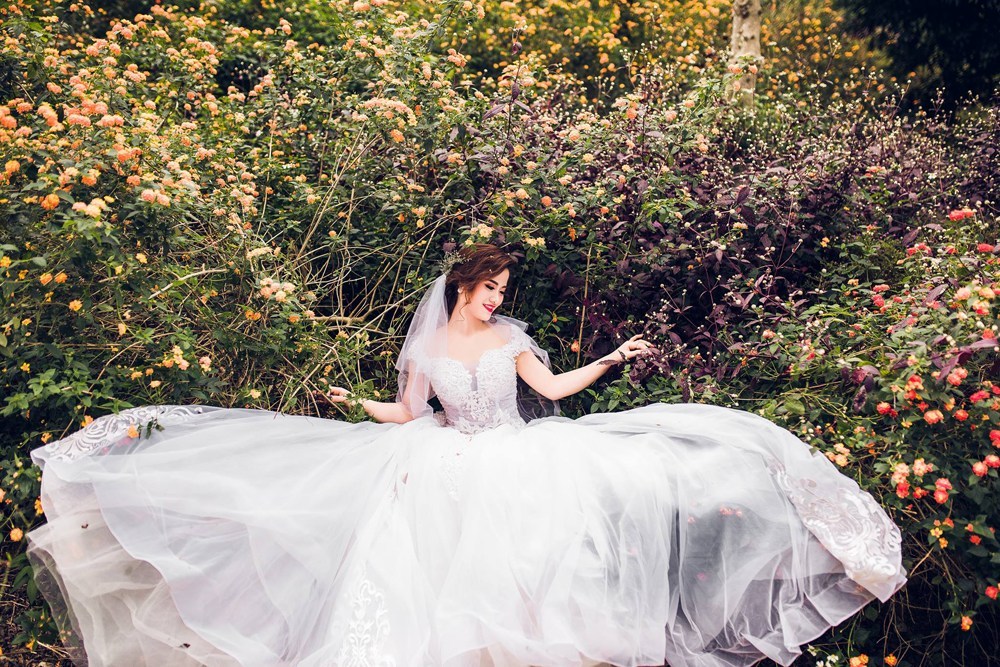 Dam Van Long
Location: Gia Van commune, Gia Vien district, Ninh Binh province
If you take a wedding photo in Ninh Binh, you will not be able to ignore the romantic scenery of the red sunset at Van Long Dam. Known as the largest nature reserve in the North, coming to this place is a poetic wild scene.
Red sunset with misty mist, blue water stream … will be a moment to help couples have the best pictures.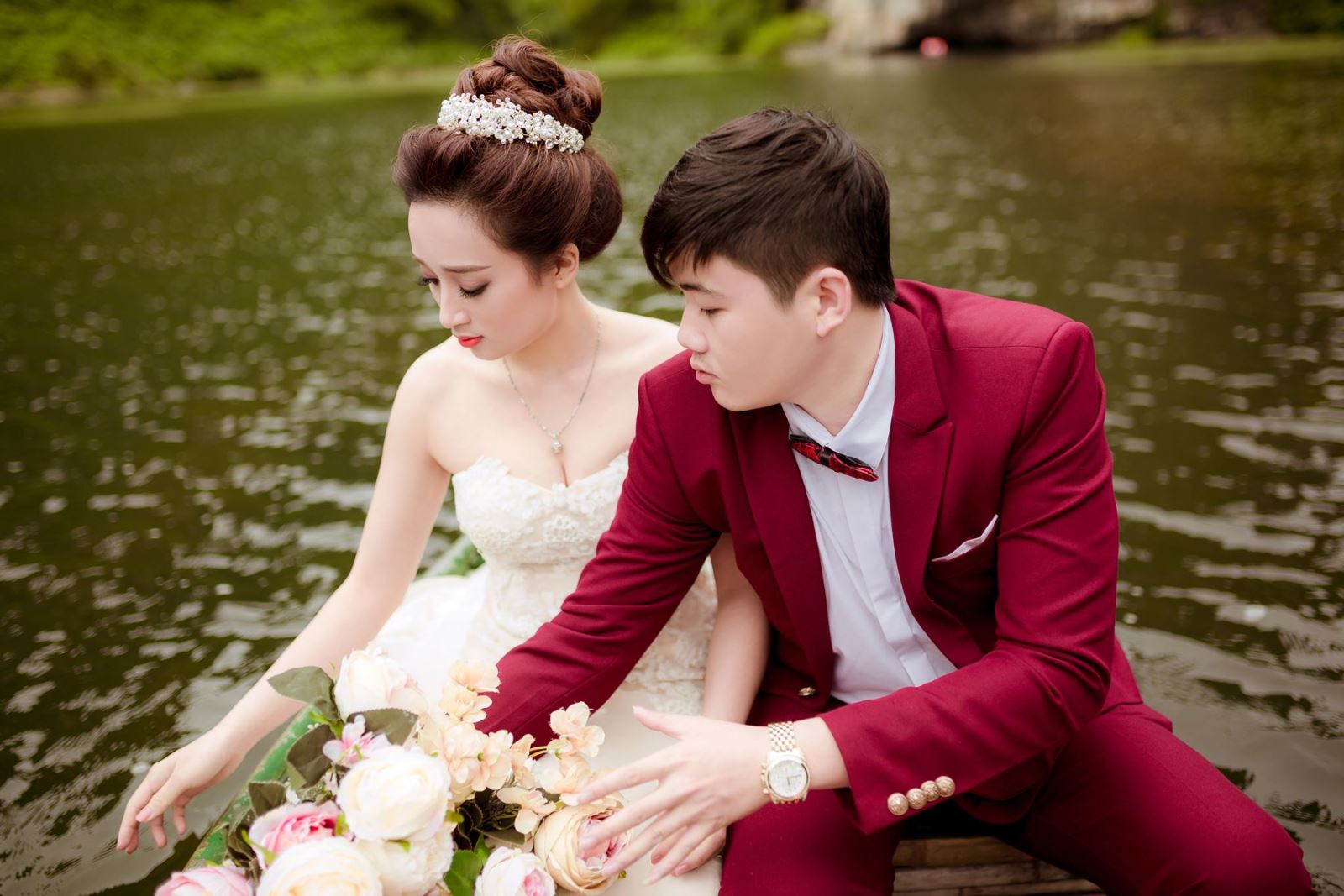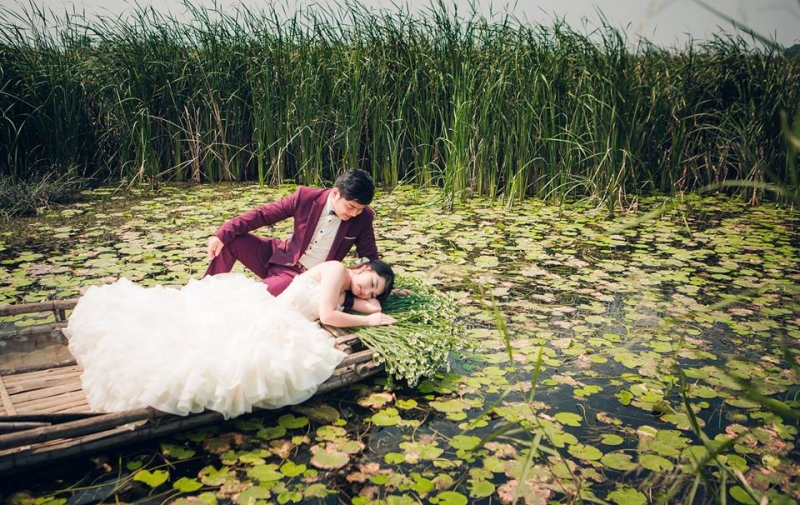 Phat Diem Church
Location: Kim Son district, Ninh Binh province
As one of the places to take beautiful wedding photos in Ninh Binh. Phat Diem Stone Church is not a church but includes a collection of Catholic churches.
It is considered the "capital of Catholicism" of Vietnam. Catholic couples choose to take pictures here to mark the important events of their lives more and more meaningful.
With the temple architecture built entirely of stone and wood, along with the mysterious and sacred beauty of this place, it will surely bring a wedding photo album filled with nostalgic colors in oriental architectural style. .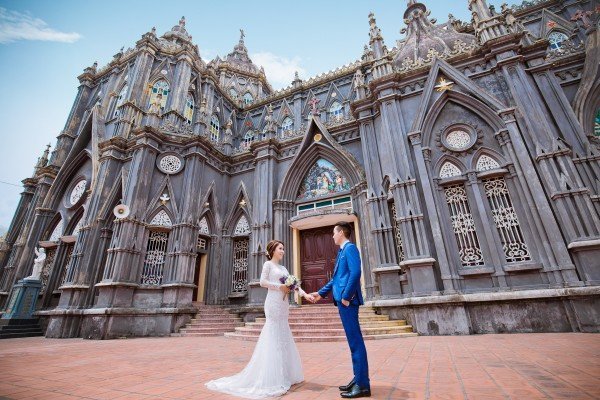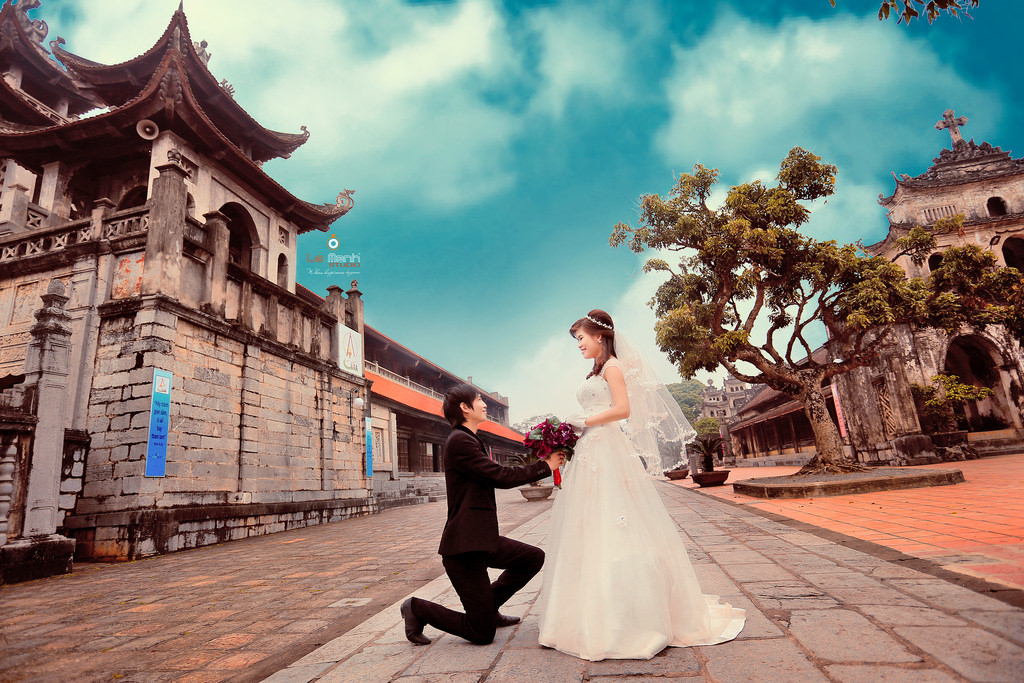 Tam Coc Bich Dong
Location: Van Lam Village. Ninh Hai Commune, Hoa Lu District, Ninh Binh Province
If you are looking for a peaceful and romantic space, Tam Coc Bich Dong will be the ideal destination. A gentle drifting river, a blue water, a small boat, majestic mountains on the bank … will all make you feel lost in another world, not crowded, not crowded.
Wedding photos in Tam Coc Bich Dong always have a beautiful, mysterious and dreamy look.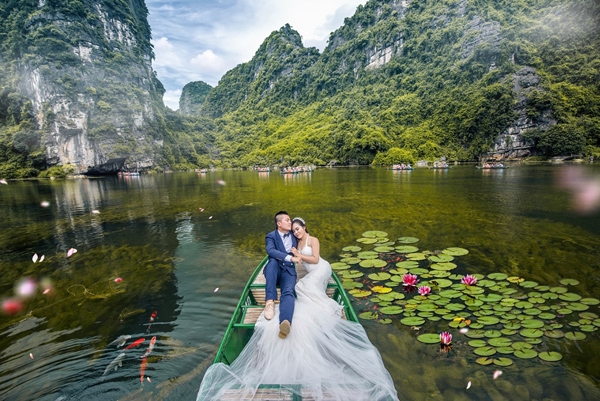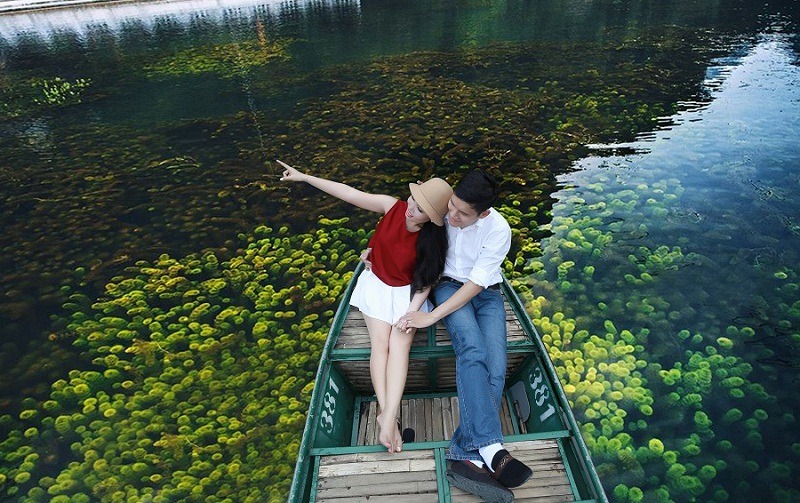 Clock Chapter
Location: Nho Quan district, Ninh Binh province
Dong Chuong Clock is a wild and quiet place, so Dong Chuong Clock will be the ideal place for the couple of two of you to take outdoor wedding photos in Ninh Binh. The special feature of this place is the vast lake space surrounding the romantic pine hills … this is the place to help couples have sparkling and brilliant wedding photos.
Am Tien Cave
Address: Truong Yen, Hoa Lu, Ninh Binh
Located in the complex of Hoa Lu ancient capital, Truong Yen commune, Ninh Binh province, known as "The Cup of Love" of Vietnam with its poetic and mysterious beauty.
Most of Am Tien Cave is a flooded valley, surrounded by cliffs, quiet space, charming water-painting landscape, which will create a unique and wonderful wedding photo set for the upcoming couple. wedding.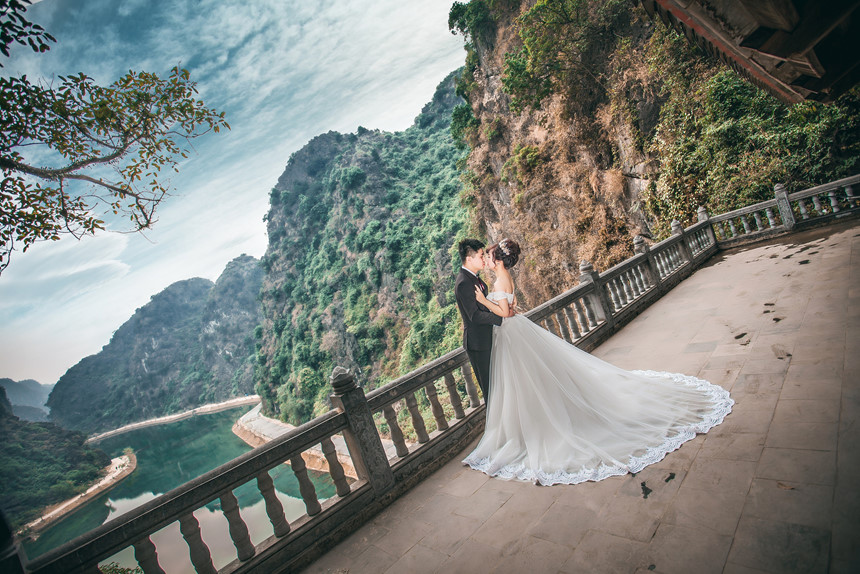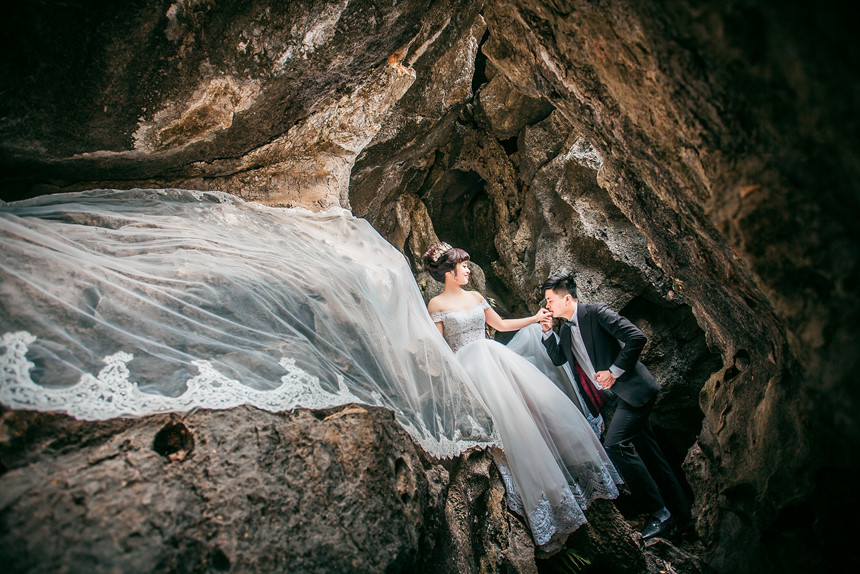 Cuc Phuong Forest
Location: Cuc Phuong commune, Nho Quan district, Ninh Binh province
On the small dirt roads of Cuc Phuong forest surrounded by green trees, you are immersed in the cool air of nature, green all year round. With this attractive place, couples will have beautiful and impressive wedding photos.
In addition, in Ninh Binh, there are many other emerging places that also have wonderful scenes. The scenery in Ninh Binh promises to bring you the most satisfactory and perfect pictures. Once in your life, let's find a background to prove the love of both husband and wife.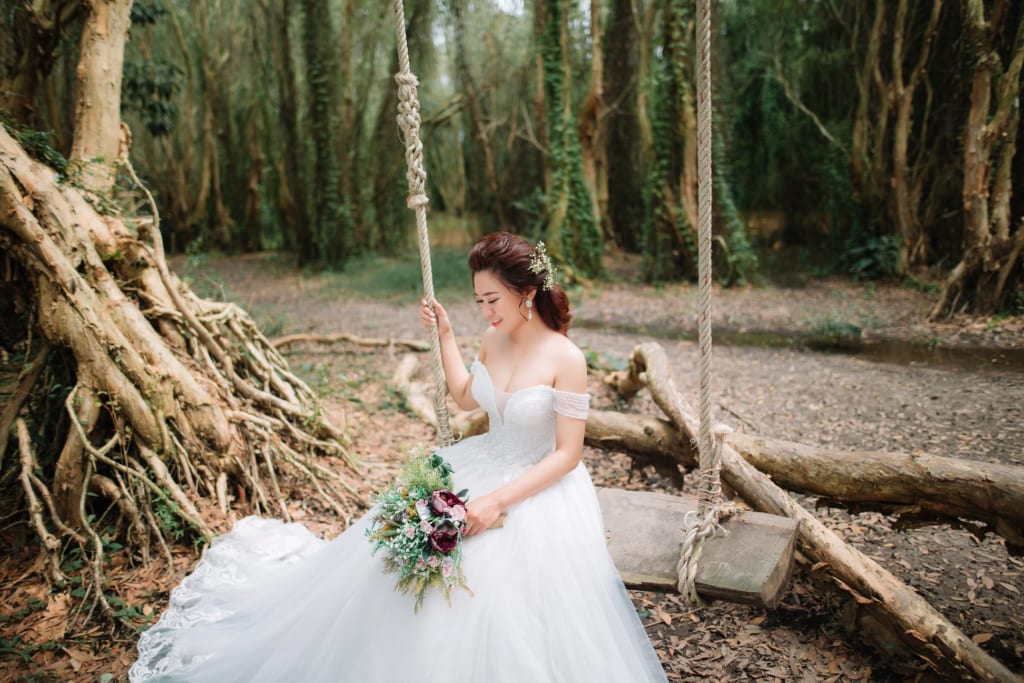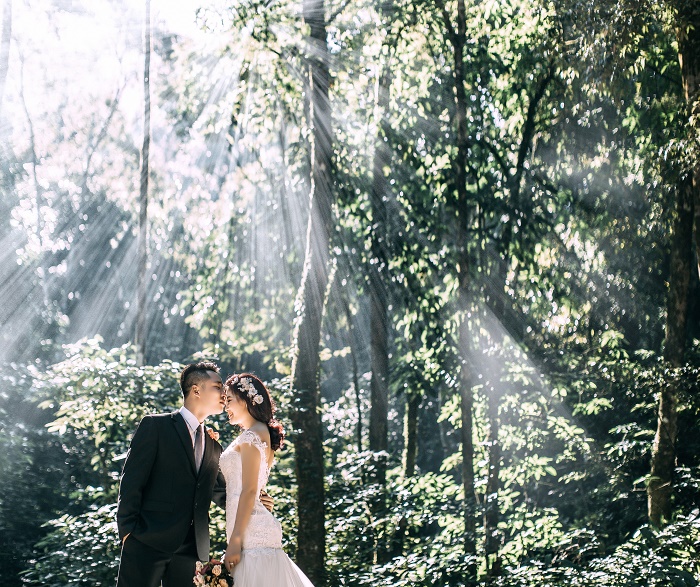 Dance Cave
Address: Khe Ha, Hoa Lu, Ninh Binh
Not as famous as Trang An or Tam Coc – Bich Dong, but Dance Cave really captures the hearts of tourists and couples who have come here. The natural scenery is beautiful and the quality of tourism services in Hang Mua is very good, not crowded like other famous tourist destinations. Dance Cave has always been an important tourist destination – an important culture of Ninh Binh, from here you can enjoy a stunning panoramic view of Tam Coc from above.
Dance Cave is located at the foot of Mua Mountain, in the ecotourism complex of Khe Dau Ha village, Ninh Binh. When you come to Dance Cave, you will be able to test your endurance when climbing to the top of the mountain through 486 stone steps, and from the top of the mountain you can admire the full beauty of Tam Coc area with the fields immense, green rice. When taking outdoor wedding photography in Ninh Binh, this is a very romantic place that you should not miss.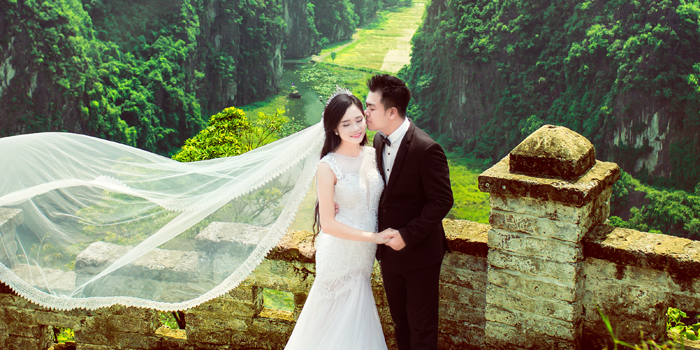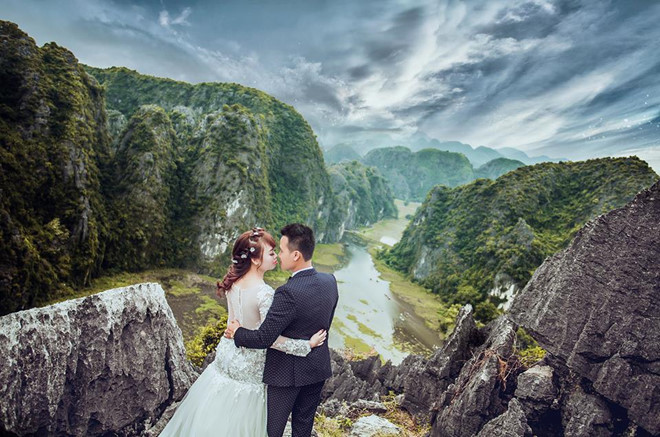 Hoa Lu ancient capital
Location: Truong Yen Commune, Hoa Lu District, Ninh Binh Province
Hoa Lu was the first capital of the central feudal state in Vietnam with historical marks: unifying Giang Son, fighting Tong – defeating Chiem and analyzing the process of settling Hanoi. Bringing the characteristics of the Northern village with the image of the moss-tiled houses, the green bamboo wall and the village gate that is familiar to each Vietnamese people, coming here is like returning to the roots with childhood memories.
The breath of life in the countryside is clearly shown through every activity and daily labor of the people. Here, you will be immersed in a quiet atmosphere with village-inspired wedding photos, the bride and groom wear a rustic outfit, which is no less interesting, creating a one-of-a-kind photo shoot. No two keep the most memorable moments in life.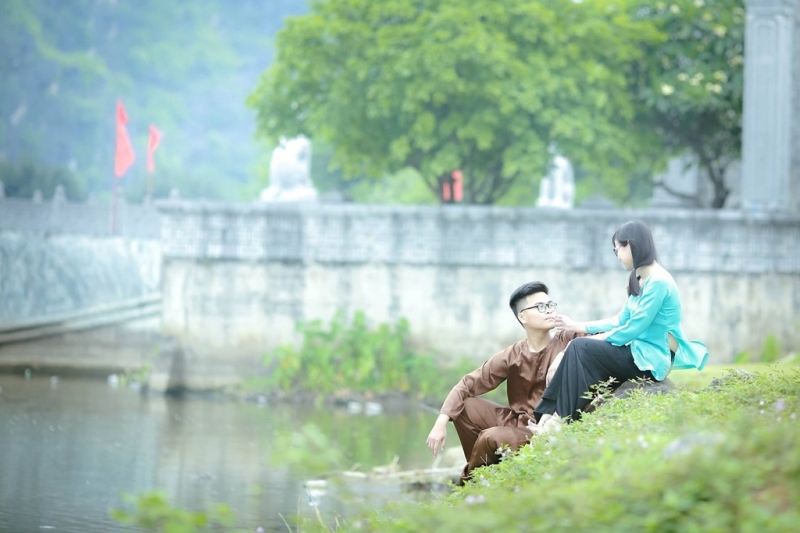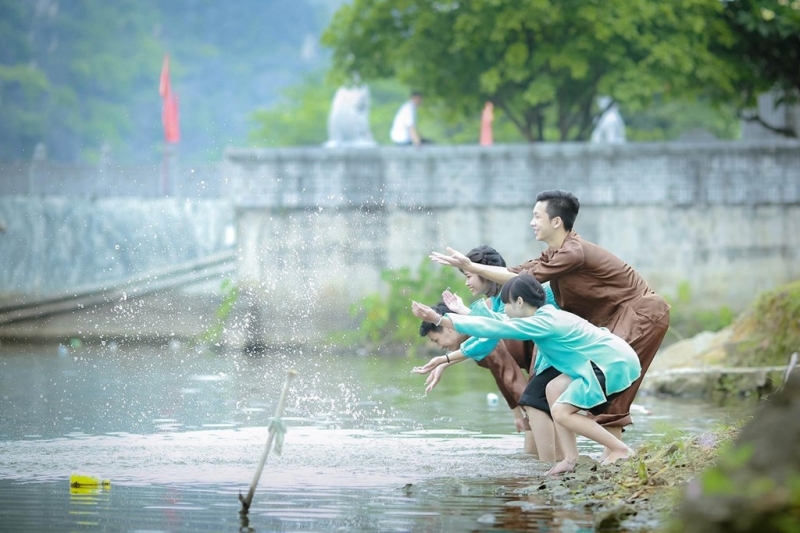 Chụp ảnh cưới ở Ninh Bình sẽ mang đến cho bạn một album ảnh cưới đầy màu sắc. Hãy cùng người bạn đời lưu lại những khoảnh khắc đẹp nơi đây nhé!